Aviation Maintenance Jobs
Jet engines are pretty cool. And fortunately for job seekers, they require constant maintenance. Aviation maintenance jobs are available in the private, commercial, and military sectors. Most of these jobs require at least vocational or college training plus certification in specific areas such as avionics, airframe, or powerplant mechanics. If you want to break into this side of the aviation industry then it pays to have formal training and certifications.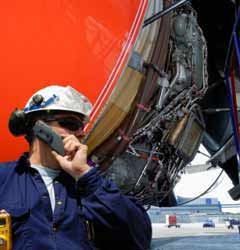 Most successful aviation mechanics are certified in airframe and powerplant mechanics (otherwise known as an A&P) and also have years of on-the-job experience. To get an edge over the competition, avionics certification is recommended. Avionics is the future of all aviation, including general aviation, and experts expect the job market to reflect that need for many years into the future. When an employer knows that you are capable of working on avionics as well as engines, you become more valuable to them because they may not need to hire a separate people for both tasks. This streamlines the process and lowers their costs.
Get The Job You Want! Join AirlineJobFinder. It is now 100% FREE!
Aviation maintenance jobs are available at smaller repair facilities as well as at large airline companies. You can also find work as an A&P in the federal or state government and at corporations that own or lease aircraft. In addition to the need for maintenance of fixed-wing aircraft, helicopter mechanics are also needed.
Typical Airplane Maintanance Positions
Generally, these are the most common job titles in this sector:
Aviation Maintenance Technician (Aircraft Mechanic)
Powerplant Mechanic
Airframe Mechanic
Aviation Maintenance Technician
Aircraft Maintenance Specialist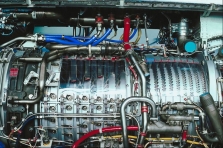 People increase their job opportunities once they've achieved an aircraft inspector's authorization. Advancement possibilities abound as aviation mechanics can advance to lead (crew chief), aircraft inspector positions and supervisory positions. If working for a commercial airline advancement is often made possible by passing periodic examinations. There is also the possibility of becoming an aviation maintenance specialist with the Federal Aviation Administration which provides excellent government benefits. Entrepreneurial types may want to start their own independent aviation maintenance business.
For each type of job profiled in our Members Section there's a description, pay details and educational requirements. You won't want to miss our interviews with industry veterans either. Their insights are invaluable.