Types of Airline Employment Opportunities
When asked to make a list of airline jobs, most people instantly think of pilots. But the flight crew, while their jobs are definitely important, are only a small part of what keeps an airplane flying and flight schedules on track. Airlines rely on many individuals to perform their job in order to keep them in business. They include baggage handlers, ticket agents, and avionics technicians.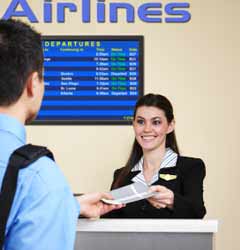 Many airline jobs are well paying and offer prestige as well as excitement and fantastic benefits.
Some common benefits include:
Sick pay
Vacation pay
Comprehensive medical
Dental
Vision
Prescription insurance plans
Basic life insurance
Basic accidental death & dismemberment coverage
Flexible spending accounts
Retirement plan
Free airfare for employee and his or her immediate family on company airline
Discounted airfare for employee and his or her immediate family on other airlines.
Eligibility for most benefits usually begins on the first day of work. Depending on the position, an airline may provide additional benefits such as employee parking and bonuses.
Find Your Aviation Industry Job Today! AirlineJobFinder is now 100% free!
According to U.S. Department of Labor Bureau of Labor Statistics, Flight crewmembers make up 33 percent of air transportation employment, and include pilots and flight attendants.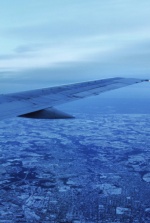 As the airline industry continues to recover from the affects of 9/11, more airline jobs are becoming available and demand for qualified applicants is increasing.
Airline Jobs
On Airline Job Finder we break down many different kinds of airline careers. Each of the following types of airline jobs is discussed in great detail in our Free Members section.
Flight Attendant Jobs
The main responsibility of a flight attendant is to make sure passengers are safe. Next, the must provide great customer service. Flight attendants make up almost 20 percent of the 515,000 employees that comprise the aviation workforce. Do you love to travel? The job might be for you!
Airline Administrative Support
Every airline, big and small, needs administrative support staff to keep the office running smoothly. These positions include secretaries, data entry workers, receptionists, communications and PR specialists, and those who work in the human resources department who handle or oversee the hiring, labor relations issues, training, and termination of employees.
Operations Agent
Also known as an Airline Operations Agent, the cargo agent needs great communication skills for receiving and transmitting information from and to pilots, ground crew, and other personnel. The Ops Agent must be able to prioritize a large number of projects and tasks. When flights are overbooked (it happens often!), agents must make decisions to rectify the situation in a way that will not negatively impact the schedule.
Avionics Technicians
Avionics technicians specialize in working on the electronics systems of aircraft. Avionics technician jobs involve troubleshooting, repairing, replacing, and installing avionics equipment. Calibration of the equipment may also be required.
Regional Sales Manager
The airline district sales manager oversees all of a district's reservations and ticket sales offices, and the sales representatives in that district. Sales representatives promote their airline in an effort to sell cargo space and plane tickets.
Flight Dispatcher
Flight dispatchers are responsible for ensuring the safety of an aircraft's flight. This includes preparing a flight plan, which is a detailed schedule of destinations, layovers, distance, expected fuel consumption, winds aloft, weather, altitude, compass bearing, and alternate destinations in case of problems.
Ground / Airport Station Attendant
This position has many names: airline informational representative, ground attendant, station attendant, special assistant coordinator, or airport informational representative. Regardless of title, the main responsibility is to assist passengers in the terminal with general questions regarding directions, terminal services, or arranging wheelchair access.
Aviation Meteorologist
Aviation meteorologists provide weather information to airline flight dispatchers and pilots. They must determine current and forecasted weather conditions for all altitudes, including the direction and speed of wind, cloud cover, and precipitation.
Passenger Service Agent
Passenger service agents some of the same responsibilities as those in station agent jobs, but they are focused on working passengers – not aircraft. Their duties include issuing refunds to passengers, computing fares, preparing and selling tickets, collecting charges for excess baggage, checking baggage, and providing travel information.
Ramp Planner
An airline ramp planner is responsible for knowing the arrival and departure times for each of the airline's aircraft at that airport. He or she coordinates a variety of departments or contracted companies that must perform various tasks on the aircraft before it can depart for the next flight.
Reservation Sales Agent
Reservation sales agents provide travel information over the telephone to customers of the airline. Typically, this information includes trip planning, car rentals, seat availability, fare information, schedules, tours, meals, and other information relevant to the customer's flight plans. Although internet reservations have skyrocketed, airlines still utilize reservation sales agents.
Sales Representative
Airline sales representatives help generate business for the airlines. They promote their airline to businesses.
Crew Schedule Coordinator
Airline crew schedule coordinator are responsible for staffing of aircrew and ground support to keep flights on schedule. If weather or mechanical difficulties delay a flight, it is the crew scheduler's responsibility to make sure schedule adjustments are made so that travelers arrive at their destination on time.
Airline Station Agent
The most important duty of the station agent or district operations manager, is ensuring the overall operations of a given airline at an airport. This encompasses both flight and ground support operations and involves coordinating flight crew, cargo crew, baggage crew, ground crew, and the information that must be communicated among all these teams.
Airline Ticket Agent
Ticket agents work at an airline's ticket or baggage counter. They greet customers when they arrive at the airport. They check in luggage and make seat assignments. They also handle airline ticket sales, reservation changes, and provide information on aircraft boarding.
Airline Flight Instructor
An airline flight instructor provides recurrent training for the airline's pilots. Airline flight instructors may be senior pilots who fly for the airline.
Aviation Attorney
Aviation attorneys specialize in aviation-related cases in commercial or general aviation for individuals, government agencies, or companies. Aviation attornies represent airlines and/or the government. Some aviation attorneys work for the FAA, while others may be on staff or on retainer by large corporations who own aircraft or deal with airlines.
For each type of job profiled in our Members section there's a description, pay details, and educational requirements. You won't want to miss our interviews with industry veterans either. Their insights are invaluable.