Airline Industry Work – Questions and Answers
Q: What jobs are available in the aviation industry?
A: The types of jobs in the aviation industry very broadly, from positions requiring extensive education and experience to jobs requiring nothing more than a high school diploma and willingness to learn on the job. The industry sectors we cover on Airline Job Finder are:
Airline Jobs
Airport Jobs
State and Federal Government Aviation Jobs
Ground Support Jobs
Pilot Careers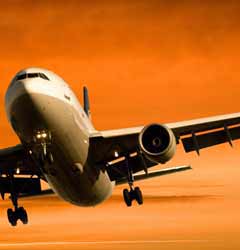 Clearly, you can't become a commercial airline pilot without years of training and experience. But to work in airport concessions or driving airport equipment on the tarmac you don't need extensive education or years and years of industry experience. Industry followers predict there will be a shortage of air traffic controllers in the future and currently, there are needs for more people to work in airport security screening jobs. These are positions we discuss on our website. Learn about all the different kinds of jobs, then utilize our Job Center for its employer profiles and job postings to conduct a job search.
Get a Job in the Airline Industry! Start Your Search Today!
To see the many types of jobs we cover check out the Airline Job Finder site map.
Q: How much can I earn working an aviation industry job?
A: As the types of jobs vary wildly in the aviation industry, so does earnings potential. One area of the industry we cover extensively are jobs with federal and state government agencies:
Federal Aviation Administration
Transportation Security Administration
National Aeronautic and Space Administration
National Transportation Safety Board
and others.
Government job adhere to pay scales and pay grades and are often unionized. Because of this, it's easy to predict how much you can earn — at least within a defined range — and we break it down on the website. Additionally, government jobs provide excellent health and retirement plan benefits as well as vacation and sick pay. If you're already an engineer or graduating from college with a degree in aerospace engineering, then this could be a great industry for you. Engineers can earn anywhere from $60k to start up to more than $120k with experience. Don't have much experience or education? Then look to airline and airport jobs where you can get in on entry-level, service-oriented jobs or manual labor jobs. These positions are often unionized, pay by the hour, and can have good benefits. Working for an airline you might secure the benefit of free or discounted travel for you and your family members.
Each section of AirlineJobFinder discusses the types of jobs available and the earning potential.
Q: Can I get a job working as a flight attendant?
A: AirlineJobFinder has a complete section on flight attendant jobs. Our interview with two seasoned flight attendants working for a major airline in the U.S. provides excellent insight into the job. Should you go to flight school first? Does it help to be multi-lingual? We answer these types of questions and also discuss pay, work schedules, time spent away from home, and required training. Your chances of being able to start a flight attendant career are good if you've got previous customer service experience, are over 21, have an outgoing personality, and CPR/first aid certification.
Search Airline Industry Job Listings
Q: Where are most of the jobs in the aviation industry?
A: Where isn't the aviation industry? That's the question. Every major city in the world has an airport. Airlines are scattered about the world with corporate headquarters in such places as Seattle, Atlanta, London, Chicago and Minneapolis/St. Paul, Minnesota. In addition to corporate headquarters, many national and international airlines have hub cities where many of their non-corporate staff are located. There's a critical need for more FAA Aviation Safety Inspectors and Air Traffic Controllers whose jobs can be anywhere in the U.S. The same can be said of TSA Security Officers. If you're an engineer focused on the aerospace industry then perhaps Boeing, located in Seattle, Washington, or maybe NASA is a better fit. The space agency has jobs available throughout the southeastern United States, Washington, D.C., and up both coasts.
The bottom line is that jobs in the aviation industry are almost everywhere.
Q: Do I need to be a United States Citizen to use AirlineJobFinder get jobs in the aviation industry?
A: Regardless of your nationality you can use AirlineJobFinder job seeker resources. Our website is written in English, however, so it is obviously best if you can read and understand English in order to get the maximum benefit.
The aviation industry is — as stated above — a global endeavor, and our Job Center includes employer profiles and job postings for multi-national companies that have operations inside and outside the U.S. Ultimately, each country has its own labor laws and visa requirements. Laws in the U.S. tend to be tougher making it harder for non-U.S. citizens to secure airline jobs. Similarly, it wouldn't be easy for a non-Canadian to get a flight attendant job with Air Canada due to their labor laws.
AirlineJobFinder is a useful aviation industry employment and information resource no matter your citizenship.
Q: Can I get an air traffic controller job?
A: Industry experts predict a great need for air traffic controllers in the future. There's already a shortage. To get an air traffic controller job you don't need previous experience in the field. You'll need 3 or 4 years of work experience and a bachelor's degree, however. Additionally, you almost always have to be a U.S. citizen, speak excellent English, be under 31 years of age, have excellent vision and hearing, and must be able to pass a pre-employment exam as well as a drug test. We explain more about these positions in our Members section. Entry-level jobs start at around $31,000 with pay adjustments given based on cost-of-living in your city of employment. Are you a military vet? You may have an advantage when applying for these jobs.
Q: Is Airline Job Finder cost effective?
A: Effective September 16, 2014, subscription to the Members Section are free. We no longer charge job seekers to access any of our content or job listings.
The nice thing about Airline Job Finder is that we've researched the industry so you don't have to. Have you thought about applying for work with the FAA or Alaska Airlines? Learn about the companies and click straight through to job postings or the company website from within Airline Job Finder. No searching around for the info you need.
Q: What kind of training regarding safety and emergency protocol will I receive?
A: Airline industry employers often put their employees through extensive operations and safety training after hiring and at periodic intervals during employment. Worker and passenger injuries and equipment damage can result in downtime, lawsuits, poor crew morale, and inefficiency. You will encounter routine emergency drills throughout your employment.
Q: Does AirlineJobFinder give me what I need to find a job?
A: When you become an Airline Job Finder member you gain access to nearly 200 pages of industry information including job descriptions with pay information, job requirements and other helpful information. Your eyes will likely be opened to jobs you didn't know existed in the industry. Once you read the information and decide what kinds of jobs are a good fit, then you can utilize our Job Center. It has listings for every major employer: airlines, airports, ground support companies, manufacturing companies, and more. Read about the employers, utilize our links to their employment pages, job lines, addresses, and also see current job openings posted within our Job Center at Airline Job Finder.
You'll find that our website is not only a tool for learning all about the industry but also for finding job openings and employer information.
Q: Will I have to join a union?
A: If you land a job as a flight attendant, then most likely you'll join one of several flight attendant unions. The Association of Flight Attendants-CWA (AFA-CWA) bills itself as the biggest labor union and claims it was started by flight attendants for flight attendants. According to their website, membership exceeds 50,000 flight attendants who work for 20 different airlines. A labor union generally represents their members in contract negotiations with employers and also lobbies federal and state government and promotes their collective cause to the media, too. They say, "…the goal of flight attendants who become part of AFA-CWA is to negotiate better pay, benefits, working conditions and work rules at their airline, and to improve their safety on the job."
Pilots are also union members in many cases. Who's number one? The Air Line Pilots Association, International (ALPA) claims that it is the largest airline pilot union representing about 60,000 pilots who fly for 40 U.S. and Canadian airlines.
The IAM or International Association of Machinists and Aerospace Workers is the bargaining agent for approximately 150 labor agreements covering "U.S. air carriers, national service companies, foreign flag carriers, commuters and airline servicing companies in the United States." In all they claim to have 140,000 members worldwide.
If you get a job in the aviation industry there's a good chance you'll join a union.
Q: What is the price of a subscription to your Member Services section?
A: Effective September 16, 2014, subscription to the Members Section are free. We no longer charge job seekers to access any of our content or job listings.