Discover Jobs at the Airport
Airport jobs are relatively easy to obtain in the aviation industry, particularly if you don't have a college degree, specialized training, or aviation job experience.
From the moment you step up to the curb, you are under the care of airport employees. This includes the Sky Cap who takes your bags and processes your ticket, the friendly airport ambassadors who direct you to where you need to go, even the people working behind the fast food counters. Everyone has a job to fulfill. Without these airport employees, air travel would not be considered the pleasurable experience it is today. The aviation industry is made up of many individual parts, and those who work at airports comprise an important part.
The number of jobs available at airports — large ones in particular — is mind-numbing, and the variety of work ensures that almost everyone can find a position for which they are qualified and interested. Imagine the possibilities, when you consider that airport jobs include airport retail managers, salespeople, cooks, cleaners, architects, gardeners, skycaps, computer specialists, and many others.
Get a Job in the Airline Industry! Start Your Search Today!
Airports represent micro-cities and as such they provide nearly as many types of jobs that you might find in a city. There are many advantages to this. Finding a line of work you enjoy is fairly easy, and moving up in that company isn't too difficult either because the turnover rate is usually high. And if you want to switch careers, making contacts with employees at other companies is also easy because you're all in the same location.
Walk through an airport and notice all the retail shops, restaurants, bars, services, and building employees. And there are many other job possibilities behind the scenes too! This section of Airline Job Finder provides you with an overview of the airport jobs available. If you're interested in a particular job but aren't sure where to apply for that position, this is an excellent place to find out. We also offer tips on what to expect for each job, the average pay, and what employers will expect you to know before you apply.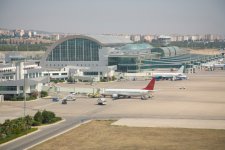 If you wish to land a job in aviation that's not concession or retail related, apply for a position with a Fixed Base Operator (FBO). Many jobs at FBO's include tasks that involve the client's aircraft, such as cleaning or servicing the plane.
Airport Jobs
On Airline Job Finder we take you through a wide variety of commonly available airport jobs.
Sky Cap
Skycaps are hired by the airport to stand by the curb in front of airline entrances and help passengers with loading, unloading, and carting their baggage. They also answer questions about flight schedules and general terminal access.
Asst. Airport Manager /Deputy Director of Aviation
Assistant airport managers, or deputy directors of aviation, help the airport manager fulfill the tasks and responsibilities of maintaining an airport. This may include the purchase, maintenance, and staffing of airport vehicles, and equipment.
Director
Airport directors are ultimately responsible for what happens at an airport: short- and long-term planning, project management, staffing, operations in general. It's a high-stress job that is also very rewarding.
Airport Engineer / Planner
Airport engineers or airport planner, work together with architects and contractors to design airports and runways. They supervise all phases of design and construction in an effort to keep the work on schedule and according to approved plans.
Concessions / Airport Food Service
Airport concessionaires are the retail shops, bars, coffee shops, newsstands, parking lots, car rental agencies, shuttle transportation service, and food service companies located within an airport or on airport grounds. These jobs are very customer service oriented, provide hourly pay, and don't require a college education.
Airport Guide / Ambassador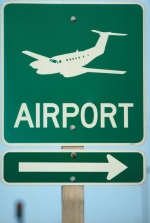 Airport guides or airport ambassadors are full- or part-time employees who provide assistance and information to airport passengers. They may provide ground transportation or curbside assistance. Ambassadors often explain to passengers what services are available to them at the airport.
Airport Custodians / Serviceperson
Airport service people, or airport custodial services attendants, are the maintenance personnel at the airport. They cut grass, water plants, clean windows, maintain lighting, perform janitorial work, and are responsible for the airport's general upkeep and cleanliness.
Fixed Based Operator Lineperson
Linepersons are employed by Fixed Base Operators (FBOs) and handle a variety of duties. The lineperson meets the arriving aircraft, guides it to and secures it in the appropriate parking area, fuels and services the plane, inspects the craft for low tire pressure or fluid leaks, and generally serves as the FBO greeter.
Fixed Base Operator (FBO) Manager
FBO managers oversee the FBO's operations and supervises its employees. FBO managers usually work their way up from lineperson and already have several years of experience working in aviation. Their duties may include making up the employee scheduling, hiring, training, and terminating employees.
Emergency Services
Airport emergency services personnel include firefighters, firefighter medics, and police officers.
For each type of job profiled in our Members Section there's a description, pay details and educational requirements. You won't want to miss our interviews with industry veterans either. Their insights are invaluable.