Become an Air Traffic Controller
Air traffic controllers might not get as much public recognition as pilots, but this is one of the most important transportation jobs in the world. In this position, you'll work to keep the skies safe, guiding commercial planes, helicopters, military aircraft, and more to the right places. Without air traffic controllers, aircraft could collide mid-air, fly too high or low, fly unsafely through poor traffic, crash as landing or taking off, and encounter other problems.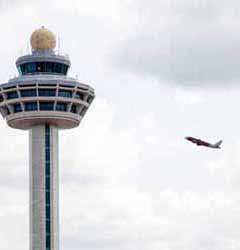 Because the job of the air traffic controller is so important, you have to be certified to work in this role. You'll have to pass psychological and medical exams, as well as pass skills tests. You can get an education in this area from one of the over 30 CTI (Collegiate Training Initiative) schools in the United States, which allows you to earn your college degree at the same time, or you can take the AT-SAT, a qualifying aptitude test. The Federal Aviation Administration also hires ex-military members. It takes three to five years to gain full certification in this field.
Search Air Traffic Controller Job Listings
The air traffic control field in the United States is going to be losing a huge number of workers over the next ten years, since most of the workforce will be retiring soon. That means the industry has thousands of jobs open, making it a great choice if you're looking for a field where you won't have trouble finding a job. Search our job listings when you become a member of AirlineJobFinder.
Air Traffic Controller Pay
Air traffic controllers are government workers, which means that you'll be on a sliding pay scale. The high pay rates aren't the only perk, however – employees in air traffic control positions also get reduced or even free travel rates as well as some of the best benefits packages in any career field.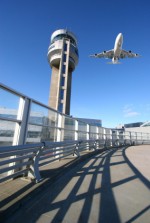 Responsibilities
Air traffic controllers fall into two basic categories: area (also called "en route") controllers and aerodrome/tower controllers. Area controllers monitor flights when aircraft are traveling to their next destinations. The airspace is divided into blocks which are closely watched via radar. Aerodrome controllers, on the other hand, monitor the space directly around the airport, controlling flights as they take off and land. Air traffic control workers in this kind of position can also work as ground control, helping planes taxi to and from their gates.
Job Requirements
This is an industry that never sleeps, so as an air traffic controller, you could work nights, weekends, and even holidays. Most airports rotate shifts, so no one worker works all the peak travel times. Since this is such an intense position that requires a high level of concentration, your shifts will also be a bit different. Most work for one to two hours, followed by a half-hour break, rather than working the typically eight hours per one hour break you find in most industries.
To work in this field, you'll need to be a strong leader who can make quick decisions while under pressure. At the core of this job is communication, so you'll need to be able to speak clearly, give directions well, and convey messages quickly. This isn't always an easy job, especially in the case of an emergency. Air traffic controllers must also be good with teamwork, as you'll often have to work with other air traffic controllers to solve problems as quickly and efficiently as possible. It's a challenging job that requires you to work well with others and be a strong leader.